WHAT'S ON WPBT SOUTH FLORIDA PBS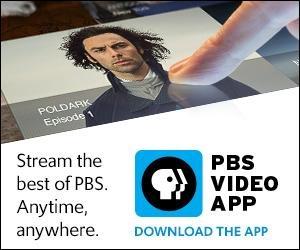 PBS Video App
Watch your favorite shows anytime, anywhere!
OCTOBER PROGRAM GUIDE
Featured This Month
Poldark's Season 5 premiere is here and Aiden Turner returns as the heroic Ross Poldark for a final season of drama in Cornwall. Also returning are Eleanor Tomlinson as Demelza and Jack Farthing as George Warleggan.
RETRO REPORT | EPISODE 5
Monday, October 21 at 9:00 PM
Reducing suicide; Baby M; Lead perils; climate help from Cold War science; Andy Borowitz.
LIFE FROM ABOVE | MOVING PLANET
Wednesday, October 23 at 10:00 PM
Cameras in space reveal the greatest, most beautiful and powerful movements on our planet.
ROTHKO: PICTURES MUST BE MIRACULOUS
Friday, October 25 at 9:00 PM
Discover the art world giant whose color fields changed art history and now fetch millions
Poldark
Episode 3
Ross' mission to help Ned bears fruit, but at a cost. Demelza tries to help the community.
The Durrells in Corfu
Episode 3
Spiros' wife joins the family on a trip that ultimately ends in disaster.
Hispanic Heritage Awards
32nd Hispanic Heritage Awards
Join the country's highest tribute to Latinos by Latinos.
Milk Street
Quick Suppers from Madrid
In Madrid Christopher Kimball learns about Pisto & Pork and Chorizo with Piquillo Peppers.
Thou Shalt Not Kill
Episode 1
Chief Inspector Valeria Ferro leads the investigation into the death of Sara Damiani.
NOVA
The Planets: Ice Worlds
Beyond icy worlds of Uranus and Neptune, Pluto dazzles with its mysterious ocean.
SOUTH FLORIDA PBS ORIGINALS
Your South Florida
Hispanic Heritage Month | Your South Florida
We explore the growing influence of Hispanic and Latino culture on our local communities.
South Florida PBS
History & Culture of the Palm Beaches | On The Town
The Palm Beaches have long been known for wealth and opulence, but the area's history is rich in so many ways.
Star Gazers
Legends of the Fall | Oct 14 - Oct 21st | 5 Mins
Star Gazers #19-41 5 minute Oct 14 - Oct 21st, 2019 "Legends of the Fall!"