WHAT'S ON WPBT SOUTH FLORIDA PBS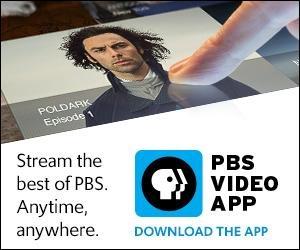 PBS Video App
Watch your favorite shows anytime, anywhere!
SEPTEMBER PROGRAM GUIDE
Featured This Month
September calls for a celebration of country music! Tune in for the highly-acclaimed Country Music by Ken Burns premiering this month plus a listing of exciting programs which pay tribute and explore the history of this uniquely American art form.
Country Music
September 15 - September 25 at 8:00 PM
Meet the filmmakers and go behind the scenes of Country Music, coming to PBS this fall.
VOCES | adios amor
Friday, September 27 at 10:00 PM
Follow the search for a hero that history forgot: Maria Moreno.
Poldark | Season 5 Premiere
Sunday, September 29 at 9:00 PM
Ross returns to the capital, Demelza finds an opponent, George struggles after Elizabeth's death.
Animal Babies: First Year on Earth
Episode 3 Preview | New Frontiers
Join the baby animals as they near the end of their first year of life.
American Experience
The Feud
The most famous family conflict in American history, the Hatfield-McCoy feud.
Country Music
"The Rub" (Beginnings – 1933)
So-called "hillbilly music" reaches new listeners and launches its first stars' careers.
Jazz
Gumbo
JAZZ begins in New Orleans, nineteenth century America's most cosmopolitan city.
American Experience
Chasing the Moon, Part 1
"Chasing the Moon," a film by Robert Stone, premieres July 8 on PBS.
American Experience
Woodstock
They came to hear the concert of their lives, but experienced something far more profound.
SOUTH FLORIDA PBS ORIGINALS
Your South Florida
Solving the Housing Crisis | Your South Florida
The Workforce housing crisis is impacting residents all throughout South Florida.
Art Loft
Florida Keys Special 2019 | Art Loft 713
Art Loft takes a dive into the Florida Keys - and this time, quite literally!
Star Gazers
Autmnul Equinox - It's Fall! | Sept 16-22nd | 5 Min
Star Gazers #19-37 5 Minute Sept 16-22, 2019 "Autmnul Equinox - It's Fall!"